School Zone Anomalies
Previous&nbsp &nbsp &nbsp Next

1. Existence of 40km/h Zones

The existence or otherwise of 40km/h zones near schools is totally inconsistent. Some major roads do not have a 40km/h zone even though a school directly adjoins the road. In other locations 40km/h zones exist where they are unnecessary or questionable.

Schools Without 40km/h Zones

The following schools are at the intersection of the two roads indicated. In each case there is no 40km/h zone on the first-named major road even though the school gate is only a short distance along the side street from the intersection, or a gate leads directly to the main road.
Peakhurst West Primary, cnr Henry Lawson Dr & Belmore Rd Peakhurst
St Joseph's Primary, cnr Newbridge Rd & Nuwarra Rd Moorebank
Colyton Primary, Great Western Highway & Nelson St Mount Druitt
Seven Hills Primary, Prospect Highway & Lucas Rd Seven Hills
Liverpool West Primary, cnr Hoxton Park Rd & Flowerdale Rd Liverpool
Freeman Catholic High, cnr Cowpasture Rd & Mount St Bonnyrigg
St Gertrude Primary, cnr Cumberland Hwy & Neville St Smithfield
St Francis Xaviers Primary, cnr Princes Hwy & Forest Rd Arncliffe
North Ryde Public School has a gate opening directly onto the 6-lane, 70kmh Lane Cove Rd but there was no school zone on Lane Cove Rd. The school wrote to the RTA in March 2009 pleading for a 40km/h zone but the RTA refused.

On 12 May 2009 a child was critically injured by a wheel from a car while waiting for a bus outside the school. Had the speed limit been 40km/h instead of 70kmh his injuries would have been much less severe. Only then did the RTA install a 40km/h zone, but as with many locations it positioned the 40km/h signs behind trees so that they were almost invisible.

Does a child have to be seriously injured or killed at each of the above locations before the RTA installs 40km/h zones?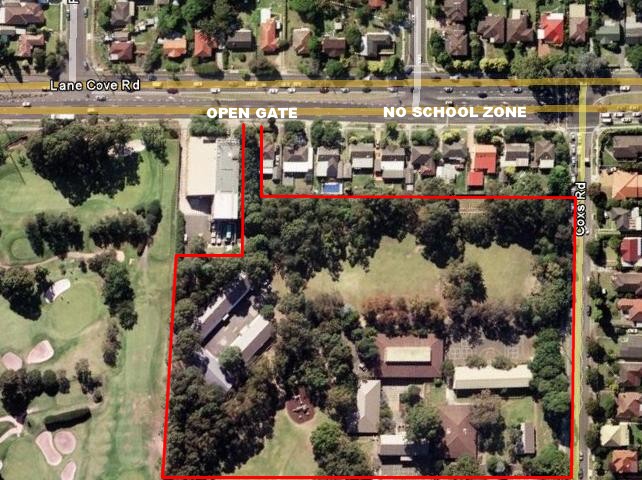 North Ryde Public - Gate onto Lane Cove Rd but there was no School Zone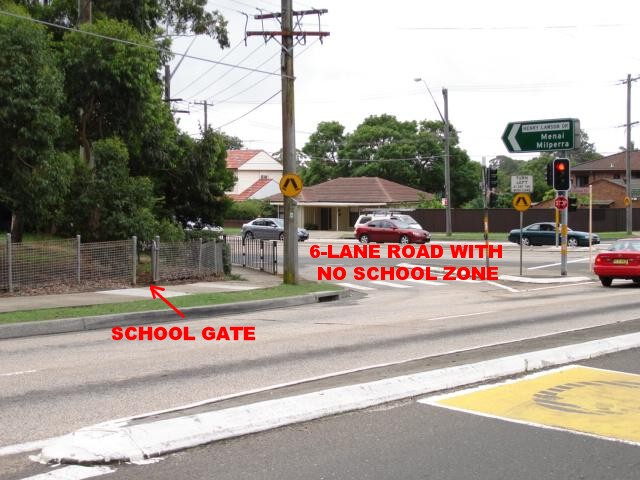 Peakhurst West Primary - No School Zone on Henry Lawson Drive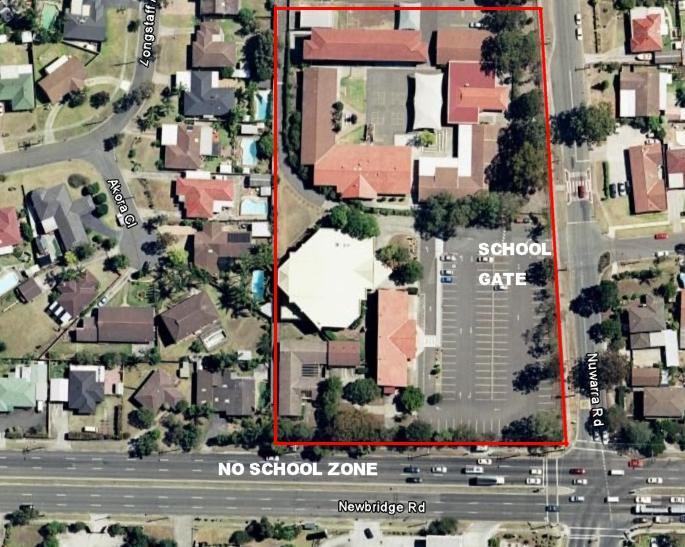 St Joseph's Primary Moorebank - No School Zone on Newbridge Rd


Schools With Questionable 40km/h Zones

Compare the above with Mt Annan Christian College, Currans Hill. There is a 40km/h school zone on Narellan Rd even though the school is 800m from Narellan Rd on a side street. Narellan Rd is no busier than any of the above roads.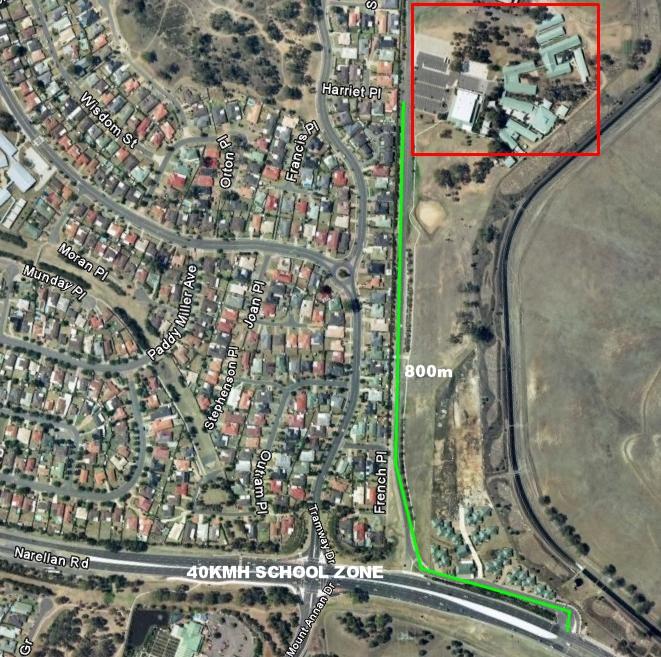 Mt Annan Christian College Currans Hill


The following schools also have questionable 40km/h school zones. In each case there is a fence down the median strip plus a pedestrian overpass. If a fence was added along the edge of the footpath it may remove the need for a 40km/h zone, reducing traffic congestion.

In the case of Fairfield West Primary School there is no entrance from the school to the main road, exactly the same as the first schools listed above without 40km/h zones. Unlike those it also has a fence down the median strip and a pedestrian overpass, so why does it have a 40km/h zone and they do not?


Bonnyrigg High, Elizabeth Drive Bonyrigg
Fairfield West Primary, Cumberland Highway Fairfield West
Fairfield Primary/High, The Horsley Drive Fairfield
Wiley Park Primary, King Georges Rd Wiley Park
Moorefield Girls High, Princes Hwy Kogarah
Canley Heights Primary, Cumberland Highway Canley Heights
Beverly Hills Primary, King Georges Rd Beverly Hills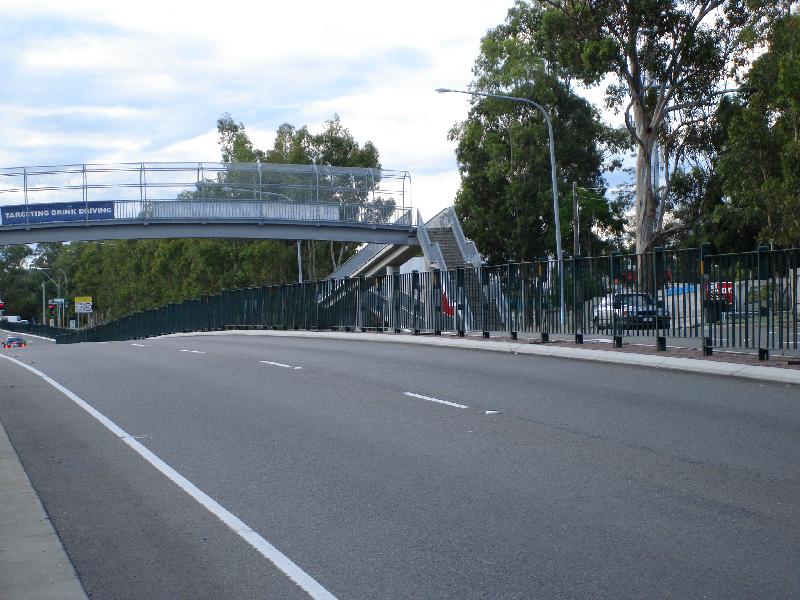 Bonnyrigg High, Elizabeth Dr Bonnyrigg
Schools Zones on Routes to School
At a meeting on 8 May 2012 an RTA General Manger stated that school zones are only installed on roads that pass a school gate, not on routes to school. That is incorrect.

There is a 40km/h school zone on Uranus Rd Padstow which is 360m from the nearest school gate at Padstow Park Primary. Uranus Rd is far less busy than many of the main roads above without school zones that are also regularly crossed by students.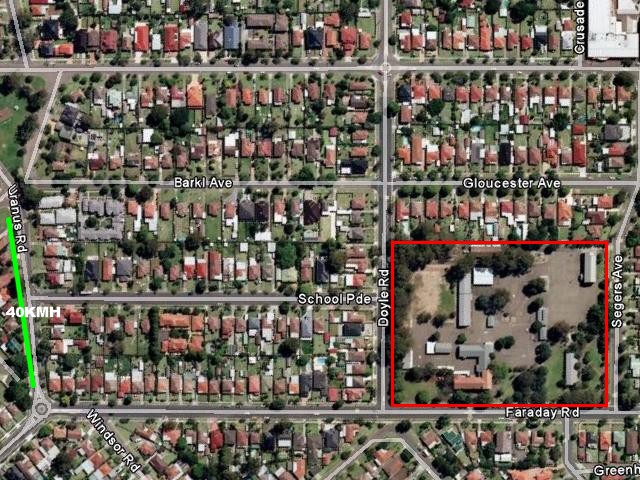 Padstow Park Primary - 40km/h zone on Uranus Rd 360m from school
Other roads that do not pass a school yet have a 40km/h school zone include
Edward St Kingsgrove near Caroline St
Blakesley Rd Blakehurst near Woniora Rd
St Georges Pde Allawah near Russell Lane
Bardwell Rd Bardwell Park near Darley Rd
Hillcrest Av Penshurst
School Zone Selection Criteria Ignored
According to the Roads Minister the RTA bases its flashing light selection criteria on "crash history and risk, traffic and pedestrian volumes, speed limits, road environment and visibility".

The photo below shows the suburb of Bonnet Bay in southern Sydney. The indicated school on Tudar Rd only has 121 students. Tudar Rd only carries local traffic and virtually no heavy vehicles, yet the school has flashing lights.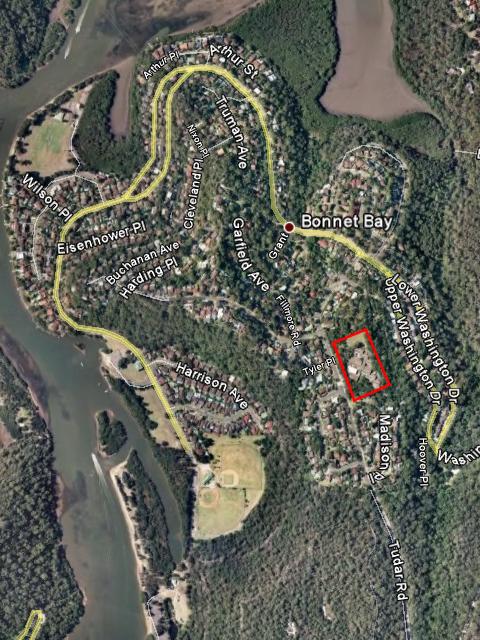 Small school at Bonnet Bay with lights

The school certainly should have flashing lights, along with every other school in NSW, but how could it possibly have qualified for flashing lights ahead of numerous other schools that are on major roads carrying tens of thousands of light and heavy vehicles per day?